What Laws, Regulations and Policies Must Be Part of Your Employee Handbook in 2020?
Recorded Session
90 Minutes
OVERVIEW
Are you aware of the new policy plan for your employee handbook in the coming year of 2020? Are your employees gaining the right insights about your firm with the employee handbook of 2020? Every year there are certain changes in recruiting policies, as well as the generation of employees who get recruited. Employee handbooks are a critical communication tool for employees to understand what the company expects from them as well as what the company expects from employees. This webinar will discuss the latest updates on the employee handbook that an organization must include to make it suitable for the year 2020.

Employees review the handbook when they are newly on-boarded in the company, when they are considering leaving the company, or when they are considering suing the company. Employee handbooks have been a tool for employers from small to large companies for several years. Many companies elect to have employee handbooks and utilize employee handbook templates that are provided on-line, which we call "cookie-cutter handbook" since they are created as a "one size fits all". Unfortunately, employee handbooks can be a huge risk if not updated regularly, adapted to each company, reflect policies that are followed consistently, and reflect current regulations.
Learning Objectives
Myths about what should be in the employee handbooks
What should be included in the employee handbook based on federal, state, and local regulations?
What are the key violations in an employee handbook?
What does the National Labor Relations Board (NLRB) have to do with employee handbook?
What new regulations have been in place by the NLRB to make employers breathe a sigh of relief?
Why do managers make a significant impact on your company's employee handbook?
What updated changes should your employee handbook include making it suitable for the year 2020?
Why Should You Attend?
Did you know that employee handbooks can be a risk or a benefit for employers? For years an employee handbook has been one of the first documents employment law attorneys request when they are planning to pursue workplace charges against an employer. Shouldn't you ensure that your employee handbook protects your company instead of exposing it to numerous risks? Shouldn't you keep your handbook prepared for 2020? Let me help you create an employee handbook that will reduce your company's risk and help you mitigate the numerous workplace regulations that can impact your company.
Area Covered
What new requirements are based on state by state regulations?
The impact of criminal background checks in the employee handbook and company policies
How has sexual harassment requirements changed in the MeToo movement?
How have pay practices and regulations changed the view of women and minorities?
What employee handbook mistakes put your company at risk for fines, penalties, and criminal sanctions?
New legal updates to prepare for the employee handbook in 2019-2020
Who will benefit?
Business owners, company leadership, and board of directors (CFO, COO, CEO)
Federal Contractor department heads
Human resources professionals
Compliance professionals
Payroll professionals
Managers/Supervisors & new and potential managers
Office managers responsible for HR responsibilities
Speaker Profile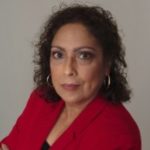 Margie Faulk
Margie Faulk is a senior level human resources professional with over 15 years of HR management and compliance experience. A current Compliance Advisor for HR Compliance Solutions, LLC, Margie, has worked as an HR Compliance advisor for major corporations and small businesses in the small, large, private, public and Non-profit sectors. Margie has provided small to large businesses with risk management strategies that protect companies and reduces potential workplace fines and penalties from violation of employment regulations. Margie is bilingual (Spanish) fluent and Bi-cultural.Margie's area of expertise includes Criminal Background Screening Policies and auditing, I-9 document correction and storage compliance, …
Subscribe to our Newsletter