In the business world, or within your organization, you probably experience large amounts of data. Maybe the data is about your sales, customers, donations, orders, employees, vendors, expenses, or whatever it may be.
Excel has many built-in functions that help you deal with that data. It is very important that you know how to use some of these functions to get the most out of your data in a time efficient manner. This way, you can turn the data into meaningful information and then provide the answers that you need for yourself, your boss, your company or your organization.
If you handle large amounts of data in Excel , this webinar will help you tremendously.
keystrokes, or pictures.

WHY SHOULD YOU ATTEND?
More and more, your company is asking you to do some things with Excel spreadsheets that has you challenged or even overwhelmed.
Maybe someone else worked on a spreadsheet, and then they moved on, and now you are in charge of that spreadsheet.
That is called inheriting a spreadsheet. That is what it is actually called. But inheriting a spreadsheet is not as fun as inheriting a million dollars.

Maybe there is some formulas in the spreadsheet that you don't understand. Or maybe your company is asking you to do certain tasks, and you know there must be a way to get those tasks done, but you don't know how to actually do it.

Do you struggle with Excel formulas? Do calculations take a long time, and you know there must be a better to accomplish things in Excel, but you don't' know where to turn? Then this webinar is for you. This webinar will show you the most popular functions and formulas in Excel and how to use them very efficiently. This webinar will make you more productive in Excel

LEARNING OBJECTIVES
Relative formulas
Absolute Formuals
IF
And
Or
Vlookup
Hlookup
Match/Index
Sumif
Countif
Averageif
Sumifs
Countifs
Networkdays
WHO WILL BENEFIT?
Business owners
CEO's / CFO's / CTO's
Managers of all levels
Anybody who uses Excel on a regular basis, and want to be more efficient and productive
Administrators
Salespeople
Trainers
Bankers
Office workers
More and more, your company is asking you to do some things with Excel spreadsheets that has you challenged or even overwhelmed.
Maybe someone else worked on a spreadsheet, and then they moved on, and now you are in charge of that spreadsheet.
That is called inheriting a spreadsheet. That is what it is actually called. But inheriting a spreadsheet is not as fun as inheriting a million dollars.

Maybe there is some formulas in the spreadsheet that you don't understand. Or maybe your company is asking you to do certain tasks, and you know there must be a way to get those tasks done, but you don't know how to actually do it.

Do you struggle with Excel formulas? Do calculations take a long time, and you know there must be a better to accomplish things in Excel, but you don't' know where to turn? Then this webinar is for you. This webinar will show you the most popular functions and formulas in Excel and how to use them very efficiently. This webinar will make you more productive in Excel

Relative formulas
Absolute Formuals
IF
And
Or
Vlookup
Hlookup
Match/Index
Sumif
Countif
Averageif
Sumifs
Countifs
Networkdays
Business owners
CEO's / CFO's / CTO's
Managers of all levels
Anybody who uses Excel on a regular basis, and want to be more efficient and productive
Administrators
Salespeople
Trainers
Bankers
Office workers
Speaker Profile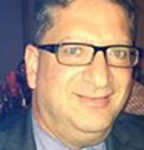 Tom Fragale
Tom Fragale is a computer professional with over 30 years of professional experience. He has trained over 30,000 business people in on-line webinars, public seminars, and on-site training. His clients include many Fortune 500 companies, government agencies, military bases, and companies large and small across many industries, including manufacturing, banking, pharmaceutical, education, retail, etc. He started his career as a database application programmer and has served as a consultant and project manager on many successful projects. His topics of expertise include: Access, Excel, Word, PowerPoint, Outlook, Crystal Reports, SQL Server, Visio, QuickBooks, and SharePoint, among others. His passion is training …