Data Modelling and Analysis with Excel Power Pivot
Recorded Session
75 Minutes
OVERVIEW
Learn to use the Power Pivot interface and menu options. If you work with data, you're likely already familiar with common frustrations with Microsoft Excel like size limitations and manually entering data from multiple sources. Luckily there are two Microsoft tools- Power Pivot and Power Query that solve ALL of these issues, right inside Excel.

No Access databases or IT department help needed. With imports of 1-million-plus rows of data sets from virtually any source and the ability to save query definitions, you can completely overhaul your reporting and analysis workflow. Power Pivot has been described as the most important new feature in Excel in 20 years. Power Pivot has been developed by Microsoft to help companies analyze and understand the growing quantities of data that are created daily.
Learning Objectives
Learn to use the Power Pivot interface and menu options
Easily load data into Power Pivot to Analyze
Analyze more than 1 million rows of data
Easily create relationships between tables of data
Create easy to use dashboard views from Power Pivot
Create Pivot Tables and Pivot Charts from Power Pivot
Learn the principles of the DAX formula language to create powerful new calculations
Create powerful new DAX measures in PivotTables such as Year to Date, Month to Date, Previous Month etc
Learn to use Sets to analyze your data
Why Should You Attend?
Power Query and Power Pivot complement each other. Power Query is the recommended experience for discovering, connecting to, and importing data. Power Pivot is great for modeling the data you've imported.

Power Pivot helps you overcome Excel's limitations when it comes to working with massive datasets. Using the add-in you can import over 1 million row datasets, from virtually any source. However, that's not all. Power Pivot is also handy for creating pivot tables from multiple datasets. You'll not have to bother with VLOOKUP, and you can forget about multiple consolidation ranges.
Area Covered
Power Query can save you a lot of time when working with imported data. Often, when data is imported from external sources, it needs work on it, before it can be used. Unnecessary rows and columns may need to be removed, blank spaces may need to be deleted, and data may have to be merged or split. All of this can be done on Excel, but with Power Query, things move a lot faster. It can also handle much more data, and you can save query definitions on it to increase ease of usage in the future.

This webinar assumes a basic understanding of Excel formulas and Pivot tables.
Who will benefit?
This webinar is designed for Business professionals, Business owners, Financial Controllers, Accountants and anyone who requires doing data analysis. This event is aimed at users of Excel (2010, 2013 and 2016 for Windows) who wish to learn about Power Pivot and Power Query. Attendees should have at least intermediate knowledge of Excel and be familiar with formulas and creating Pivot Tables.

Business users who analyze data with Excel or create management reports
Excel users who want to analyze large data sets and create relationships between tables
Excel users who know how to Pivot Tables and Pivot Charts
Excel users who wish to create interactive dashboards
Accountants
CPAs
CFOs
Financial Consultants
Controllers
Speaker Profile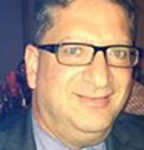 Tom Fragale
Tom Fragale is a computer professional with over 30 years of professional experience. He has trained over 30,000 business people in on-line webinars, public seminars, and on-site training. His clients include many Fortune 500 companies, government agencies, military bases, and companies large and small across many industries, including manufacturing, banking, pharmaceutical, education, retail, etc. He started his career as a database application programmer and has served as a consultant and project manager on many successful projects. His topics of expertise include: Access, Excel, Word, PowerPoint, Outlook, Crystal Reports, SQL Server, Visio, QuickBooks, and SharePoint, among others. His passion is training …
Subscribe to our Newsletter